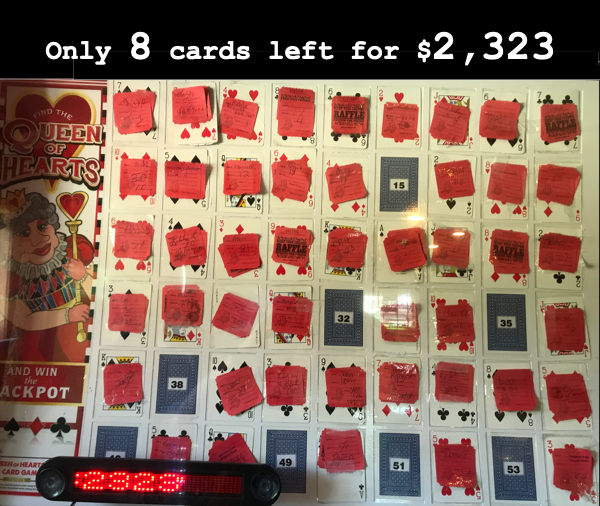 If your number is drawn, you have 8/1 odds of Winning the current jackpot of $2323.00 plus all of the wagers this week, probably closer to $2500.00 by drawing time. The 8 remaining number are:
Playing the Queen of Hearts
Tickets are sold for $1.00 each.
You must choose a number on the board that isn't already covered up by the ticket of a previous winner.
Write that number and your name (e.g. Grant #38) on the back of each ticket that you are turning back in to the bartender.
The drawing will be each Friday at 8:30 pm.
The bartender will spin the tumbler with all of the tickets, open the access door and allow a random patron to blindly pull a ticket from the tumbler.
The back of the ticket is read aloud in front of all patrons.
With any luck your name and number with be called.
The number on the board will be pealed back to the reveal the card underneath.
If it's the Queen of Hearts, you win the Jackpot!!!
Slight drawback though. $200 is kept back to seed the next drawing. So whatever the jackpot is, subtract $200 and that is what you will receive as the winner. For example, if the jackpot is $2957, you will actually only get $2757 awarded to you. But look at it this way, $200 was seeded into the jackpot that you won!
ORG2406